No-Poo, but No Baking Soda Either- My pH Balanced Zero-Waste Hair Care Routine
If you look up "no-poo" on Pinterest, you'll find countless tales of people experiencing incredible hair growth and resolution of all their scalp and hair problems. Before we can dig into this further, let's first make sure we understand what shampoo and conditioner actually do: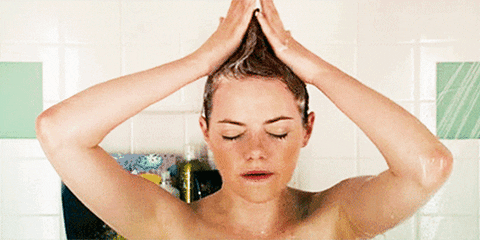 1) Sebum is the naturally occuring oily substance that is produced by glands in your scalp. When you have just the right amount of sebum, it makes your hair shiny and soft. When you have too much, it gets greasy and stringy. Too little, and it gets brittle, easily tangled, and dry.
2) Shampoo is designed to strip sebum from your hair. Water cannot rinse sebum away, so we use shampoo to wash it off.
3) We use conditioner to replace some of the moisture we've stripped away with the shampoo, and to smooth the cuticles of our hair, making it less easily damaged, and shinier.
Now we understand the how and why of our conventional hair care products. You may have already asked yourself "why are we stripping away all the moisture and then putting some back, can't we just get rid of some of it?" This is the downside of shampoo, it strips the natural oils from your hair, and then we replace them, generally with synthetic ones. Here's the thing; by constantly stripping away your hair's natural oils, your body overcompensates and produces even more sebum, so our hair becomes oilier, faster.
I spray it on my face as a toner, and I spray it on my hair twice a week about 30 minutes before taking a shower, massaging it to the roots with a wood bristled brush, which distributes the sebum across my hair instead of leaving it concentrated at my roots, and massages my scalp at the same time. I rinse the rice water out in the shower, and I use a black and peppermint tea rinse, which is approximately the same pH as my hair. The black tea helps bring out the best in my brown hair (sub chamomile if you're a blonde), and is known to prevent hair loss. The peppermint is good for my finicky scalp by increasing blood supply to the area. I've been using this routine for two months now, and I'm very happy with where my hair is at. There was a two week period during which my scalp adjusted to not having the sebum stripped away, but it never got gross, just a bit heavier than usual, and I used some dry shampoo during this period without seeming to derail the adjustment process.
Now I present to you completely unfiltered, no product, no make-up selfie, of my current hair and skin, (and my toddler sneaking around with a bowl of yogurt) complete with six specs of dandruff. I have always struggled with my dry, flaky scalp, it has been a serious source of embarrassment at times, and is it greatly improving with this regimen. Real life folks; change doesn't happen all at once overnight, no matter what the clickbait says.
Since changing my hair care routine my hair has shown more of its natural wave and volume, and as mentioned my life long scalp issues seem to be working themselves out. I will update on this towards the end of the year since it's hard to tell after only a few months if a routine will work in the long run, but so far I'm happy with my new zero waste hair care routine, and it's certainly very inexpensive! I will admit I've had relatively clear skin since my mid-twenties, so I don't see a huge difference with the rice water as a skin care product, but it certainly isn't hurting anything. Have you tried rice water for beauty? I'd love to hear about your experience!
Love this? Pin it!